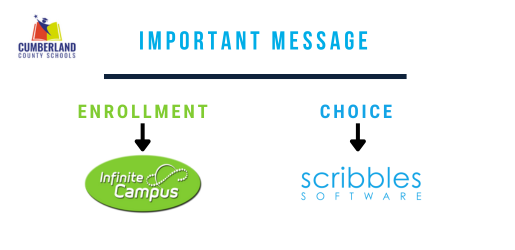 Select To Get Started:

---
General Information:
Welcome to the Online Application system for the Student Assignment Office at Cumberland County Schools. Specific program criteria for student placement in a CCS Choice Program can be found on the Cumberland County School's webpage.
All requests will be checked for accuracy. Any falsification of information may result in your request not being processed.
*Please also note that this website is optimized for IE 10.0 and higher, Safari, Chrome and Firefox.
Available for 2020-2021 School Year
Information for Open Enrollment Applications:
This is an official application. The information contained on this online application should be considered private.
NOTES:
Students who wish to attend a CCS Choice Program must submit an online application.

Please check the CCS Choice website to determine if transportation options are available.

The student must abide by the CCS Choice agreement.

There is NO guarantee of approval.

You will receive emails from scribonline@scribsoft.com to notify you of the status of your order. It is important you read those emails carefully as additional information may be required to process your request.

If you do not know your Zoned School of Attendance, please click HERE.
---
For More Information, Contact:
For Customer Service Contact:
CCS Choice Team
Cumberland County Schools
2465 Gillespie Street
Fayetteville, NC 28306

Phone: (910) 678-2300
For Technical Support, Contact:
Scribbles Software
Email: help@scribsoft.com
Phone: 855-465-1458
---
Business Hours
Monday - Friday
8:00 AM - 4:00 PM