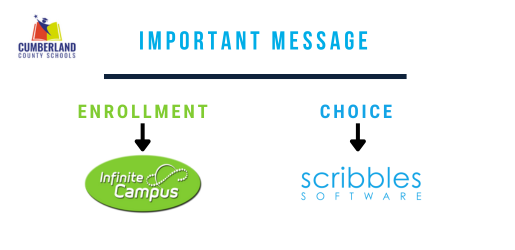 General Information:

Welcome to the Online Application system for the Student Assignment Office at Cumberland County Schools. Specific program criteria for student placement in a CCS Choice Program can be found on the Cumberland County School's webpage. Please see the Student Enrollment Quick Reference Guide for assistance with Student Enrollment.
All requests will be checked for accuracy. Any falsification of information may result in your request not being processed.
*Please also note that this website is optimized for IE 10.0 and higher, Safari, Chrome and Firefox.
Available for 2024-2025 School Year
Available for 2023-2024 School Year
---
Information for Choice Program Applications:

Important! Please note the following:
Students who wish to attend a CCS Choice Program must submit an online application.
Please check the CCS Choice website to determine if transportation options are available.
The student must abide by the CCS Choice agreement.
There is NO guarantee of approval.
You will receive emails from scribonline@scribsoft.com to notify you of the status of your order. It is important you read those emails carefully as additional information may be required to process your request.
Information for Student Enrollment:

Important! Please follow the steps below to register your student:
You are required to have ALL of the following materials:

A certified copy of your child's birth certificate.
Proof of residency in the name of the parent/court appointed custodian in the attendance area of enrolling school:
Current Utility Bill (electric/gas/water) – no more than 30 days old
Mortgage/Lease Agreement – no more than 60 days old:

If renting from a Rental Agent, lease must be on letterhead.
If renting from an individual, lease must be notarized with contact information of person renting property.
If living with an individual, the individual with whom you are residing must provide the proof of residency listed above and complete the CCS Residency Affidavit.

Additionally, parent/court appointed custodian must provide proof of residency in their name at the address provided.
Proof of Vacating Previous Address (if applicable):
Proof of sale
Utility disconnect
Written verification from property manager
Photo ID of Parent/Court Appointed Custodian
Any custody documents (if applicable)
Immunization Records
NC Health Assessment (Kindergarten and Transfer Students New to North Carolina Only)
School Records:
Transcript
Most recent report card
Discipline records (if applicable)
Special Education Records (if applicable):
Complete all of the required forms in the packet, and review supplemental forms to complete if they apply to your student.
Turn completed packet and required forms into school personnel to finish the registration process.
---
For More Information, Contact:

The School District
Cumberland County Schools
2465 Gillespie Street
Fayetteville, NC 28306

Phone: (910) 678-2300
---
Business Hours:

(August - May)
Monday - Friday, 8:00 AM - 4:00 PM
(June & July)
Monday - Thursday, 8:00 AM - 4:00 PM